To All MHS Parents,
Over the school holiday break parent logon accounts were migrated over to use Single Sign On (SSO) for access to school resources. This SSO account provides logon access to the Compass Parent Portal as well as the Canvas Learning Management System (LMS).
The new system creates a One-Time-Pin code sent to your registered email in order to logon to the school's systems, similar to that used by many online banking systems. Once your receive your One-Time-Pin you are able to logon to the Compass portal and Canvas.
Please be sure to check your emails and keep an eye out for an email with the subject "Your MHS Account".
It should just like this: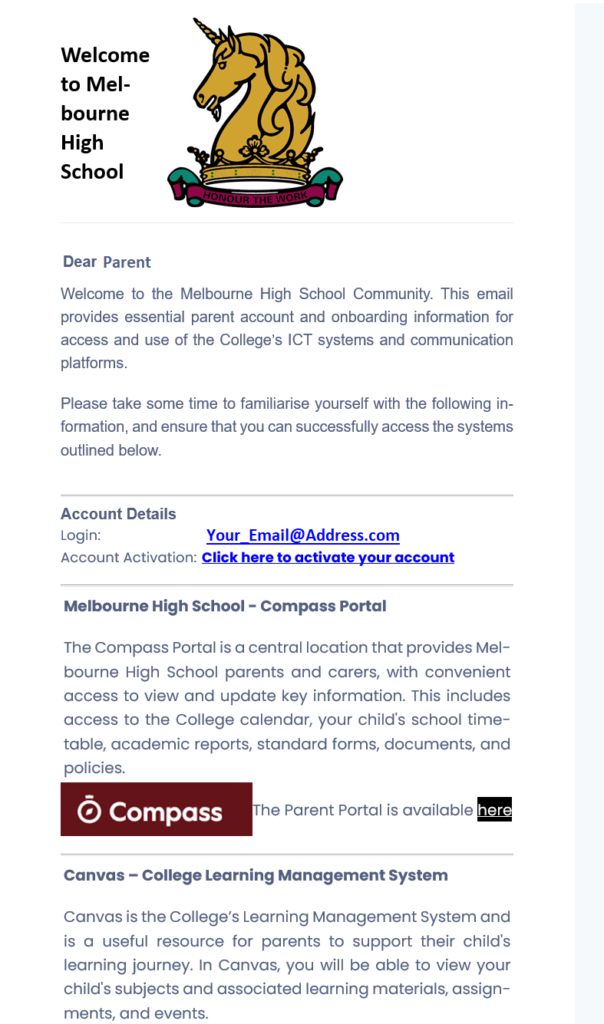 All you need to do to login using SSO is to:
Click the link provided within this email which will take you to the school SSO portal where you type your registered email address.
Check your emails to get your provided One-Time-Pin
Enter your One-Time-Pin that was emailed to you in order to complete logon.
Congratulations, you are now signed in and can access Compass and Canvas.
If you have any difficulty with the above instructions or have not received an email titled "Your MHS Account", email the schools friendly IT Helpdesk at parenthelpdesk@mhs.vic.edu.au and we will get back to you within a few days.
We appreciate your patience.
Regards
Melbourne High School
IT Team