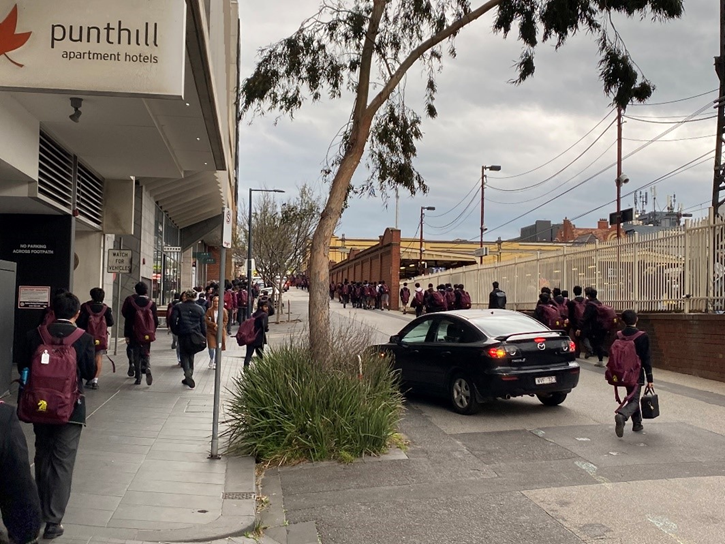 Please sign the petition here.
Melbourne High School is concerned for students' safety while walking between South Yarra Station and the school each day. This is particularly the case on Yarra Street, which runs north-south adjacent to South Yarra Station and forms part of the shortest and quickest route used by most students travelling between the school and South Yarra Station each day.
Every day, thousands of pedestrians use Yarra St. However, the existing footpaths are grossly inadequate and cannot accommodate the level of foot traffic they receive. This is primarily due to them being much too narrow, as well as being frequently obstructed by rubbish bins, parked bicycles, delivery vehicles and cars going in and out of driveways. This causes severe overcrowding, forcing many students and members of the public alike to walk on the road, in the path of vehicular traffic which is unsafe for both pedestrians and motorists.
We are proposing that Stonnington City Council construct an additional footpath on the western side of Yarra Street, adjacent to South Yarra Station, for approximately 150 metres between Toorak Rd and Yarra Lane. This will alleviate congestion and improve safety by providing an uninterrupted pedestrian route between South Yarra Station and Yarra Lane, as there are no properties or driveways on this side of the street.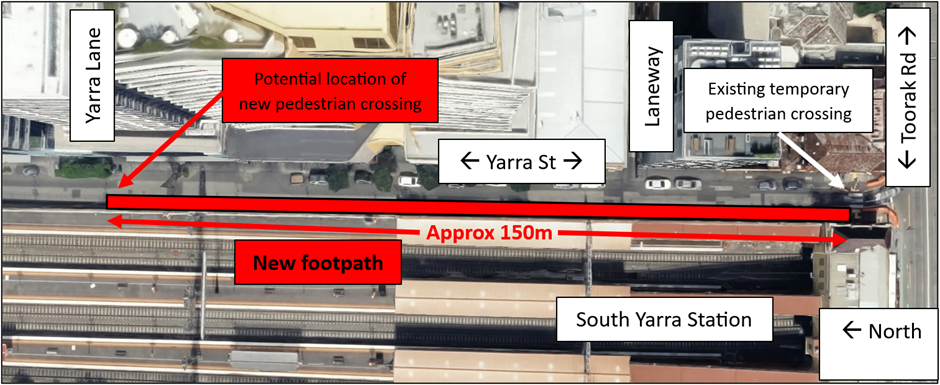 Melbourne High School students are not the sole beneficiaries of the project, as many members of the public also use the footpaths on Yarra Street each day. Before and after school each day, swarms of students will crowd the footpaths, making it hard for non-school students and anyone walking in the opposite direction to get past, which has been the subject of numerous complaints to the school. A new footpath will free up space on the existing footpath by shifting the bulk of the foot traffic to the other side of the road.
We need your help to raise awareness and inform Stonnington City Council on this urgent issue by signing this petition.
In the meantime, students can use the Snap Send Solve app to report rubbish bins blocking the existing footpath to Stonnington City Council. Students can also phone VicRoads on 13 11 70 and quote the number 4742 to complain about signal timings on the Toorak Rd pedestrian crossing, in front of South Yarra station, forcing pedestrians to wait for too long, which is unsafely causing people to cross against the red pedestrian signal.
For more information, please see our various resources, including an information document here. Thank you for supporting us with this crucial matter, and we look forward to some action on this in the near future!
Sebastian Tse
MHS Railway Interest Group Year 11 Executive