Principal's Report
And the winner is …Yarra!
Congratulations to Yarra House on winning the 2023 Athletics Carnival. It was a great event and thank you to all involved. There was a great atmosphere throughout the two days and a strong display of camaraderie and house spirit. (And of course, lots of staff and students dressed up in their house colours!)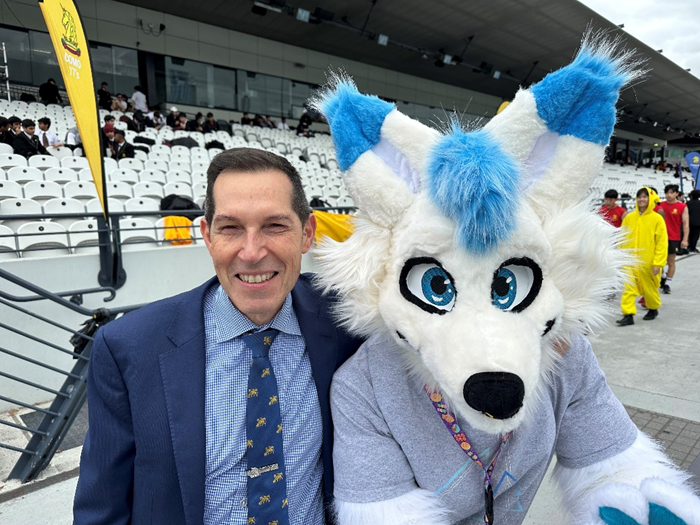 I wish to acknowledge and thank Mr Michael Chandler, Director of Sport, and the staff who supervised students or played an important role on the field, first aid and technical services. I also wish to acknowledge the student leaders, videographers, and helpers who helped make it such a successful event.
New records broken – Congratulations to William Wong, Yarra House Captain
Not only did Yarra House win the House Athletics, their Captain, William Wong broke two Melbourne High School Records. These were the –
Boys 17 Year Olds 100m Sprint 10.96 seconds
Boys 17 Year Olds 110m Hurdles 14.00 seconds.
An outstanding achievement. Congratulations and well done.
The power of sport and physical activity.
At Melbourne High School, the sport and physical education program is an integral part of the student experience. There is a lot of research to support its value and positive impact. The healthy mind needs to be oxygenated, well nourished, hydrated and have time to rest. Accordingly, we encourage and expect students to participate in physical activities. The school provides a raft of opportunities including a gym which students can use free of charge, sporting groups they can participate in and exchanges with other schools where they can compete at an elite level. I thank you for your ongoing support and contributions towards these programs.
Year 11 Applications for the Arts/Humanities Intake are open.
Please advise friends and family of this opportunity. The Arts/Humanities Intake is a way in which highly capable young men with a passion for the Arts and/or Humanities can take up a place at Melbourne High School. There will be approximately a dozen places available. Details can be found on the enrolment page of the school website.
Wellbeing Coordinator – Congratulations Cecilia Martin
I wish to congratulate Cecilia Martin on her provisional appointment as Wellbeing Coordinator. Cecilia has been working as the School's Mental Health Practitioner. Cecilia is qualified in Psychology and brings extensive experience in adolescent and family therapy to the role. Cecilia has also been actively involved over the past two years with the deployment of our case management model and several wellbeing programs including the Berry Street Education Model and Mental Health First Aid.
Supporter webinar with the MHS Principal
On Thursday night this week, I hosted an online event for financial supporters. The aim of the webinar was to provide an update of recent achievements and plans for future projects. I sincerely appreciate the financial contributions individuals are making. It is through such generosity that MHS can grow its programs, improve facilities, and enrich the student experience.
Thank you to Emer Diviney, Engagement Consultant supporting the work of the Melbourne High School Foundation Ltd, for providing the technical support on the night.
Western Front Tour – Information Session Sunday 21 May at 3:00pm in Memorial Hall
An information session is being held on 21 May for current students, parents and past students who may be interested in participating in a tour of the Western Front. There will be a presentation by 'Old Boy' Lambis Englezos and Luke Savage the School Archivist. A highlight of the proposed tour is a visit to the cemeteries, battlefields and graves of MHS community members who lost their lives on the Western Front. The tour is scheduled for the 2023 September school holidays.
Have a great weekend,
Dr Tony Mordini
Principal
News
Upcoming Events